Latest news at the bottom of the page

I was reading through the local newspaper and came across an add that had 2 Galaga's for sale. I told my wife (she likes Galaga) and she wanted to go look at them.
When we went to see them the guy had 4 machines. 2 Galaga's, a Mario Bros., and a Pac-Man cabinet with Ms. Pac-Man marquee, control panel overlay, and monitor bezel artwork installed. I turned it on and..........nothing :-( No problem I was there for the Galaga's anyway! One problem though...........He would not just sell me a Galaga. It had to be a package deal. All of the machines needed alot of work so I talked him down to $500 for all of them. I went and picked them up the next day!
After I had them home I messed around with the Galaga's for a while, and decided to sell them (after I traded the PCB's out of one of them for a set of Stargate PCB's). I sold both Galaga's and the Mario Bros. to a local guy named Eddie. You can see them on his page here.
Now I started with Ms.Pac-Man! I opened it up and turned it on.............it was powering up but no picture(kind of). I started adjusting the monitor and I got a picture. Still no sound. That was easy, the speaker was unplugged! I said I got a picure, not a good picture. The monitor is shot, but Pac-Man lives! Thats right Pac-Man not Ms.Pac-Man! Go figure!
I have to tell you I knew nothing about Pac-Man at this time. I went to the newsgroups (VERY helpful people there!) and asked what would it take to get Ms.Pac-Man up and running. A bunch of people replyed, and told me about the Ms.Pac-Man daughter card and ROMs. I bought everything I needed for $30 off the newsgroups. What a deal! I installed the parts and my wife and I played Ms.Pac-Man all night!
A couple of days later Ms.Pac-Man died. Damn! I started looking on the net for information and found this site, PacMan Info . Then I got in touch with Bob Roberts. I got a fuse holder and an edge connector kit from him. I installed them and Ms.Pac-Man was back!..........for a while :-(
Ms.Pac-Man DIED completely. I asked Bob Roberts if he would recommend anyone to repair my Ms.Pac PCB. He told me about a guy in Seattle. I e-mailed him and sent him my PCB's.
I got them back the next week ($66 poorer) and plugged them in. They worked, BUT there was a hum all the time. I e-mailed this guy back and he told me to ship the PCB's back to him. I also noticed that the Ms.Pac daughter card was not the one I sent him. I asked him about that and he said that he always uses a known good one for testing and must have gotten them mixed up. I sent him the PCB's back and he fixed the sound problem for free.
I got the PCB's back (not my original daughter card) and plugged them in...................no more hum!
I let Ms.Pac-Man sit for a couple of months and when I started her up she had a new problem. Ms. Pac and the ghosts are in the wrong place onscreen. I have not fixed this problem yet.
That's it for now! As soon as I do more to Ms.Pac-Man I will put it here.
<--------UPDATE!-------->
I received the Pac joystick grommets Tuesday. I installed one, and it feels like NEW! I f you need one e-mail Mike!
Now all I have to do is stop playing it for a while so I can paint it :-)
I sent out a money order yesterday for some Pac joystick centering grommets. As soon as I receive them, I will post the guy's e-mail address.
Still not sure if the NFL Blitz grommets will work. Bob Roberts said he doubts it. If you know for sure, please e-mail me.
Got the monitor! I have to do some fine tuning, but overall it looks good.
I read on the newgroups that you can use the rubber centering diaphragm from NFL Blitz on Pac joysticks. The post said that it is the exact same part! I will look into it.
Bid on a coin door at Ebay. It looks to be in good shape (alot better than the one I have!) and it's cheep! I am looking for a Pac-Man joystick. If you have one for sale please e-mail me!
Ordered a NEW monitor!! It is a Wells Gardner 7200. I should get it next week.
When I get it installed, I will post my opinion about its performance.

I found the problem! It was the 74LS161 RAM at 2E! Ms. Pac-Man LIVES!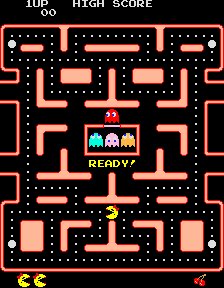 The FULL Restoration Begins!